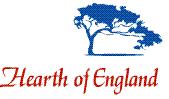 "Hearth of England"
Finedon,
Northants.
Tel
:- 07092 060064 (does not accept texts),
Mobile:- 07952 982124 (texts preferred)
Email: - info@hearthofengland.co.uk

All original parts are re-used where possible to keep the authenticity of the stoves. Some re-fabrication is required where corrosion makes reuse impossible. Most stoves come to us as corroded wrecks so a lot of work can be involved in the resurrection process. On most of the older French enamel stoves there can be some slight crazing and pitting but this is part of the stoves history and again adds to its originality. These burners have been built to use, have been used and can be used again. As well as being a piece of history they can be a useful asset to your home.
Plenty of stoves are ready for renovation. Some for sale "as is". Check out the "Stoves in Progress" link...

Villager C Multifuel ready. November 2017
£250
Multifuel stove cleaned up and resprayed with HotSpot stove matt black paint. New rope all round. 5 inch flue and output approx 4 to 5 Kw.

Poele Cadet
I kept this for a good while as it's lovely but I know realise I will have nowhere to install it. Valued at about £700 a few years back but I'm up for reasonable offers. Hardly been used, new mica installed. Riddle mechanism, damper, top loader. Lovely old French stove. I need to put a bit of fire cement at the back but that is a short job.
£ offers

Please check the "Stoves in Progress" page for future stoves.