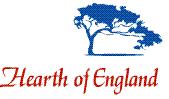 "Hearth of England"
Finedon,
Northants.
Tel
:- 07092 060064 (does not accept texts),
Mobile:- 07952 982124 (texts preferred)
Email: - info@hearthofengland.co.uk


Jotul No 1 - Sold
Jotul No 1 Partially restored.
If you know anything about stoves you will know that these are pretty damn good. Partially restored by a colleague and a little bit done by myself.
What it needs:- Rear heat plate, baffle plate and some attention to the sliding door mechanism. I think the problem is with a bar underneath that holds one of the sliding wheels. It either needs replacing or reseating. I believe these are still available from Jotul as are the heat plates. The door seems a bit loose but DOES close and open/slide but needs a little jiggling about to sit properly.
There is a T-section of flue attached to the currently rear mounted flue spigot - Diameter = 7inches.
Door and top blanking plate re-roped.
SOLD

Overhauled French cast iron insert / cassette stove. Large beasty that certainly kicks out some heat. Large viewing window and multifuel grate. Delivery to 14260 area of Normandy possible.
Dimensions - Height:-69cm to top of flue, 53cm to top of door, Width:-70cm, Depth:-43cm. Front Loader. Multifuel. Flue diameter:-19.5cm. 11kw+ output. This country doesn't seem ready for these inset stoves yet but I have experienced plenty in France. I have adapted one to route the heat generated by the hidden part of the stove body in to the same room as the stove and the above bedroom through a vent. If you want an open fireplace effect then simply open the door!
KEEPING for a log cabin.
Villager "B" Wood Burner
Villager B Flat Top wood burning stove. Mid range stove with up to about 9KW output. Recently overhauled ie new rope, resprayed with matt black stove spray, replaced vermiculite fire bricks. Top mounted 6 inch flue exit. with flue damper, Baffle plate fine. Glass replaced.
Belts out a lot of heat so if you forage for wood you may be looking at free heating! Ready to use. Free delivery within 40 miles of Atherstone.
More images available.
Features:-

Brick lined firebox.
Airwash system.
Primary and Secondary air controls.
Heat output 8Kw
Width 23 5/8'' (600mm)
Height 22 ½'' (572mm)
Depth 13 ¾'' (350mm)
Flue Size 6" (152mm)
Top mounted flue c/w damper
For a limited time only --> £350 SOLD

Jotul No 6 SOLD
£xxx

GODIN No 159 SOLD
Godin multifuel stove. Will burn wood and coal . Stove dismantled, re -cemented and cleaned. Stove has hardly been used by the look of the internal fire bricks so plenty of life left in it yet. Replacement mica is installed in the front door as part of the refurbishment.
It dates from sometime about the 1930's to just before the war.
It is in a deep brown enamel, and there are signs that this stove has been used by some marks on the enamel.


Arthur Martin - Aciero. Multifuel. SOLD
This is probably from about the 1950s. In almost perfect condition. Transported from the Creuse area of France near La Souterraine. This could be used as a proper burner but the top of the stove would probably need to be removed and fire cement applied where necessary as it smokes a bit from the top edges.
Currently for decorative use only.
Dimensions - Height:-61cm, Width:-40cm, Depth:-33cm including 4cm flue depth. Top Loader. Flue diameter:-8cm

ULEFOS 864 wood burner SOLD
Ulefos 864 wood burner for sale. Norwegian cast iron stove all in working order. New fire cement added to internals. Internal side plates and baffle all good. Handle on air vent control on from door was missing but have placed a bolt on the dial to enable easier control. I believe replacement handles are still available. All door bolts have been removed and greased to enable addition of new vent control handle or dial if needed. Vastly under-rated stoves on a par in quality with Jotul.
Height - 63cm + 4cm for flue spigot, Width - 32.5cm, Depth - 51cm max
More images and details available.

Coste - Poker SOLD
Wood is loaded through the door on the right and can take logs of up to 15".
The firebox has been removed from the case, cleaned up and inspected. A new coat of HotSpot stove paint has been applied and replacement firebricks cut and installed. There is some buckling to the firebox but this does not affect the stove operation. Some marks are evident on the enamel.
The dimensions are:
56cms (22")H x 50cms (19½") W x 30cms (11¾") D and the flue size is 11cms (3½") and it is 37cms (14½") from the floor.
£295.

Villager AHI multifuel burner with boiler. SOLD

Largest of the Villager range with multifuel grate and back boiler. Approx 14kw

Yeoman Exe Multifuel Stove SOLD
Low Canopy. All in full working order. The canopy has had to be re-sprayed due to some marking. This is a used stove and has some scuff marks on the door handles and a few barely noticable marks elsewhere. There is a secondary air-wash system, multi-fuel grate, ash pan and pan removal tool included.
Dimensions:-
68cms H x 59cms W x 42cms D, and the flue size is 15.5cms Output is around 4.9 to 6kw

Yeoman Exminster LPG gas stove SOLD

A little dusty due to storage but in full working order. Bought in order to use in a French bedroom but no time available at the moment to install. Comes with 84cm of black flue pipe.

Jotul 602 SOLD
Cast Iron Norwegian wood burner
This is a green enamel stove found in a barn in Lower Normandy. It has had some use but apparently has spent most of its life in storage. There is some pitting to the enamel on the top, rear and sides but this does not affect the operation of the stove. It has a very large hotplate suitable for keeping your coffee warm should you so wish. The flue is currently at the top but it is possible to have it coming from the rear. The internals have been re-cemented and the door has new fire rope. All appears to be in full working order and ready for work.
Dimensions - Height:-64cm Width:-32cm, Depth:-56cm. Front Loader. Flue diameter:-11.5cm. Up to 6kw output.

Petit Godin SOLD
Complete. Base and front door in black enamel. Some chips as seen in the image. Centre tube section has been cleaned up and resprayed in high temperature stove paint and cured. Firebrick internals - well used but still functioning well. New mica sheet added. Some mild warping to the top plate is evident due to use.The burn test showed that a small amount of smoke came from the top loading lid but this may be due to the inadequate flue I had attached. Some fire rope has now been added to produce a good seal. This little thing gave out a very useful amount of heat. One of the first French stoves I found near Limoges, this has been kept by me for a while now due to its "cuteness". More images available. This stove has been well used but there is still plenty of life left in the old gal :o)
Dimensions - Height:-70cm, Width:-36cm (widest point of legs), Depth:-32cm including 5cm flue depth. Top Loader. Flue diameter:-8cm

Chappee 8007 SOLD
This beautiful "radio" stove by Chappee is a lovely example of later Art Deco wood burners. It is finished in a beautiful blue enamel. The mica windows have just been replaced. As you can see there is a chip to the top left of the stove lid but this does not affect the stove operation. The fire bricks in the base are cracked but still fit in nicely.
The dimensions are:
53cms H x 52cms W x 36cms D and the flue size is 9.7cms - 45cms (17¾") from the floor. Output is around 4-5kw.
Door re-roped and stove ready for work.

Deville 394 C wood burner. SOLD
Two heating rings on top. Dismantled, cleaned and new fire rope in side loading door. Some chips to the enamel on the front grill and body and some crazing one the left hand side panel but none of this affects the functionality of the stove. In fact it gives it a more authentic feel. Email for details and more images.

Dimensions - Height:-55cm, Width:-49cm, Depth:-36cm including 4cm flue depth. Side Loader. Flue diameter:-11cm

Deville Charleville Millefeux - Multi fuel SOLD
Sourced from Lower Normandy near St Hilaire du Harcouet. Stove in full working order.

Dimensions - Height:-57cm, Width:-30cm, Depth:-35cm including 5cm flue depth. Top Loader. Flue diameter:-7cm

Coalbrookdale Little Wenlock SOLD
Ready. Multi fuel Little Wenlock Mk 1. Excellent stove and very heavy. Multi fuel grate, ash pan. New fire bricks. Able to burn wood AND coal.
Dimensions - Height:-53cm, Width:-38cm, Depth:-33cm including 3cm flue depth. Flue diameter:-12.5cm

Cast Iron Fire Grate with Ashpan. SOLD
Just brought back from France. Hardly used.
Dimensions :- 58cm wide, 32cm deep, 22cm tall


Villager - ALI Wood Burner. SOLD
Villager ALI with back boiler. This has not been pressure tested so cannot be guaranteed to hold water but as a wood burner it is excellent. Currently the flue is at the rear. New fire rope and glass.
Fire bricks less than one year old.
The Villager name is not on the doors like the later models. We estimate the age of the Villager to be about 15 years.

Poele Chappee. SOLD
Rescued from St Hilaire du Harcouet in Normandy. Top loading multi fuel burner with riddle mechanism, front rotational air control and ashpan. New mica sheets and all controls working fine after a strip down and clean. Also has facility to warm a kettle on the lid. Email for dimensions and further images.


Yeoman Wood Burning Stove. SOLD
This was in a shocking state and took about 2 weeks to transform.
Stripped, wire brushed, repainted, new door rope and glass tape.
A lovely little stove and very heavy!


Jotul No 1 SOLD
In the process of refurbishment and needing a baffle plate. The door of the stove came with a large crack in it. It has since been welded and needs to undergo extensive heat testing once I have found a baffle plate for it.