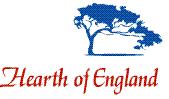 "Hearth of England"
Finedon,
Northants.
Tel
:- 07092 060064 (does not accept texts),
Mobile:- 07952 982124 (texts preferred)
Email: - info@hearthofengland.co.uk

About us
Created as Sole Trader 10/10/2010
This was originally a site to display some of the wood burners I have refurbished as a hobby. Since coming online I have received a number of emails and calls asking what I have for sale. Please bear in mind that I previously did this as a hobby only. Now Hearth of England is operating as a sole trader business since 10/10/10.... spooky! ;o)
So who am I? Meet Andy. Ex IT "professional" of over 20 years that desperately needed a change. All this started while I was a newbie looking for the right burners to put in my mums French hideaway. Several were bought, refurbished, deemed not suitable. Eventually I settled ( for now ) for a Hergom, a Yeoman big flat top and a Rayburn Royal. It was hard work but fun and I've been doing it on and off since. Forever a learning curve!

Yeoman Flat Top "Mongrel"- Mine !!!!
This piece of work has been completed. It's home is now a large dining room in my French cottage somewhere in Normandy.


Deville 11Kw Multi Fuel
This was sitting in my French cottage and scheduled for refurbishment. Builders left it outside and it got nicked - and I know who by - Mr Builder if you are reading this!. Impressed I was not. Ask me which Normandy builders to NOT use....


Hergom H02 / TC1
Hergom TC1 with 4 hot air vents. Stove now installed in my french cottage. A roughly 18kw monster which also supplies hot air to the bedroom above via a wall vent. It works a treat. The hot air nearly burned the bed headboard before we shifted the bed 2 ft away from the vent! Lovely Roastie Toastie. The bedroom has never been so warm... :o)


The Old Workshop. I need another desperately!


Wanted
I "may" be interested in your old wood burner. Email me with details and images.
Up to £200 for Villager AL and AH and large Yeomans
Up to £150 for Villager B stoves and medium Yeomans
Up to £100 for some Ulefos and Jotuls
Lane and Girvan information and grate.
Log retainer and multi fuel grates for Villager AL/AH/BL/BH wanted
Ulefos 864-1 parts and information.

Coming soon
Property:- 2 rentals in Coventry.
1 rental in Normandy, France.
See www.levigeon.com

Here be Ghosts.......