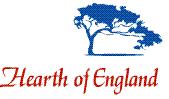 "Hearth of England"
Finedon,
Northants.
Tel
:- 07092 060064 (does not accept texts),
Mobile:- 07952 982124 (texts preferred)
Email: - info@hearthofengland.co.uk


Where do we go.... what do we do...
Oct 2008 - Stove Mission 1 - Nissan Vanette.... Central France... 8 hours there and 6 hours back! To be expanded
Nov 2008 - Stove Mission 2 - Lower Normandy
Dec 2008 - Stove Mission 3 - Angouleme. The last stove hunting mission has just been completed. An intended 3 day trip turned in to a 9 dayer due to a shattered windscreen on the A28 between Le Mans and Tours. Thanks to the Excellent service provided by the N et G Coursieres Peugot garage at Luceau and the AA we "eventually" had a new screen ( Para Bris) fitted and were able to complete the hunt but over a week late and with a few cuts...
My web pages buttons have gone all weird so the site updates have been on hold. AAAAgggghhhhhh...
Jan 2009 - Nightmares. Elegance 5 grate disintegrated on me while trying to free up. The latest Villager AHI flue spigot was irrepairably damaged by builders before I got the stove and new ones cost a bomb. Also 5 of the door studs needed remedial work. The tap set I bought temporarily is made of monkey metal and is useless. It's cold and I'm sure I have chilblains :) I burn pallet wood in a stove I am restoring to keep me warm while outside! The biggest absolute pig in this game is seized studs nuts and bolts. The trick is LOOK AFTER YOUR BURNER, people, lol.
Good News - navigation revamped with a link bar so I can now update the site and revamp it :o)
Off to France to get the 4 or 5 burners in storage over there.
Five burners retrieved from France - more work to do!
Accidents with Angle Grinders are rarely trivial. Except in this case. I got away with it. One monster grinding wheel caught my overalls, cut through them and my jeans and yes it found its way to my leg. Ouch! I now hobble...
2010
A problematic year thanks to certain fascist elements of "the establishment" so the less said about it the better.
2011
Now a "small trader". A strange term as i'm 5ft8"...!
A fair number of enquiries and "wants". Can't seem to pump out enough stoves as my workshop isn't big enough and I can't afford premises. O well, must just forge on ahead.
Have put a small Coalbrookdale Little Wenlock Mk1 and Yeoman Exmoor in the house we are supposed to be moving too. Looking forward to sparking those little puppies up when moved in! Anyone wanna buy my current house???
Don't buy an Esse Dragon. They warp!
Don't buy chinese. Can't get the parts.
Got a different van. Nissan Kubistar DCi70 - same as a Renault Kangoo. Brilliant!
2016
Moved to Coventry then moved to Northants. Now a limited workshop means i can't do the big stoves any more due to size and access but after a break of a couple of years due to "circumstances" I am "back in the game". It would be nice to have a unit of some sort but rental costs are just too expensive. Still looking though...
First stove properly done in a few years -> Jotul No 1. Next up will be a Villager BL.
2017
Busy with other stuff but completed the BL, Village C nearly ready and a Villager Kitchener in the que. Still could do with a proper workshop but there's "nowt" about i can afford...
Here be ghosts.....