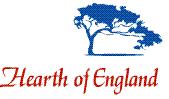 "Hearth of England"
Finedon,
Northants.
Tel
:- 07092 060064 (does not accept texts),
Mobile:- 07952 982124 (texts preferred)
Email: - info@hearthofengland.co.uk

List of stoves awaiting and undergoing refurbishment
Email info@hearthofengland.co.uk with any queries.
Check out the FRENCH COLLECTION further down this page.

Coalbrookdale MK3 Little Wenlock - Boiler version.
(Data coming soon.)
Price - tba

Villager BH multifuel burner
Price tba

Jotul No 1
Villager B flat tops x2
Villager B low canopy x2
Villager B high canopy x2
Coalbrookdale Mk3 Little Wenlock - Boiler model.
Coalbrookdale Mk2 Little Wenlock
Cotswold flat top
Large Yeoman High Top x2
Hunter Herald 8 Flat Top
MORSO DOVE with boiler.
Esse Dragon - enamelled
Email for details
***

• Suitable for burning wood or multi-fuel*

• Radiant and convected heat for improved effectiveness

• Clean Burn - provides greater fuel efficiency
with less pollution

• Panoramic curved window

• Airwash system - to give a clearer view
of the flames

• External riddling

• Removable ashpan

• Warming compartment with Serpentine Grey stone shelf

• Log storage compartment

• Top or rear flue - 153mm (6")

| | | | | |
| --- | --- | --- | --- | --- |
| Model | Width | Height | Depth | Output |
| Elegance 5 | 468mm | 1150mm | 476mm | 8kW |

*burns anthracite, smokeless fuels and peat turfs with the use of a multi-fuel kit.

<![if !vml]><![endif]>
Now then. The image above is how it should look. This one doesn't, and wont. Graphite metallic will be changed for hotspot black stove paint. Below is an image of it now. Overhaul commenced.
Status - Awaiting start. New glass required and this alone costs £200 ! ...

ULEFOS Nr. 864-1
L.D. Cappelen Ulefos Iron Industry—The Cappelens apparently started as ship owners
and timber merchants, chartered in 1657 by Fredrik III, the Danish and Norwegian king.
In 1727, they bought forest land in the iron-rich region of Ulefoss on Lake Nordsjö and
built an iron foundry and sawmill. The Ulefos wood-burning stove is one of Norway's
oldest products and is still available in the original design from 1766. The family
company today also owns two hydroelectric power stations and produces automotive
parts as well as 70 percent of Norway's manhole covers.

Status - Completed. Currently being used in a wooden cabin in France.

Lane & Girvan, "Caliban No 2 and Caliban No 4"
This cast iron stove was, I think, produced by Lane & Girvan in Ayreshire. I've been doing some research on this and the foundry no longer exists. It seems the company had a history from the late 1800s through to about 1960/1970 with a few takeovers in between. The top lid has 1859 stamped in to it. This appears to be a part number.
Company Name:

Lane & Girvan Ltd

Foundry Name:

Lane & Girvan

Location:

Falkirk

Date of Operation:

1904 - 1977

Historical notes:

Lane & Girvan Ltd Ironfounders. Lane & Girvan was established in 1904. The Company was incorporated in 1919 with the registration number.It was taken over by Repton Ltd in 1960, liquidated and bought back from the liquidator by Repton Ltd and renamed Lane Girvan 1961 Ltd. Repton Ltd was taken over by Midlands Industries Ltd and from 1967 Lane and Girvan used the new parent company's name. Closed in 1977. Info courtesy of Falkirk archives


Archive image of the Lane and Girvan foundry.
Dimensions - Height:-62cm, Width:-30cm, Depth:-41cm. Top Loader. Flue diameter:-8cm
Status - in progress. Dismantled totally.

>>>

The French Collection...

<<<

Dovre 2800 multi-fuel with back boiler.
Currently under renovation and awaiting some new glass sheets and fire rope. ETA Feb/March 2012
Approx Dimensions - Height:-88cm, Width:-70cm, Depth:-47cm. Front loader. Folding doors. Flue diameter:- about 8 inches
Image is of a similar stove.

Status - In progress.

Excelsior
Status - Awaiting start.

One LARGE Godin Multifuel Radium Burner.
Top Loaders. Awaiting restoration. Better images to follow.

Designed primarily to burn solid fuel, the stove can burn pieces of wood and logs up to 450 mm in length. The enamel on the stoves is good.
The stoves are BIG and very heavy ( estimate weight about of 125 kg), it also kicks out a lot of heat and should heat up to 400 cubic meters. Burning anthracite the stove should have a burn time per fill of about 7 hours.
DIMENSIONS of ONE of the burners... The other is "similar but I don't have the measurements to hand yet.
Manufacturer/Model: Godin.
Approx Year of Prod: 1934
Fuel: Multi
Weight, estimated: 125 kg
Dimensions, approx. (mm):
Width:
420
Depth:
600
Height:
830
Flue: 125
Price; tba
Status - In progress

Arthur Martin "Le Brul Bois" (TBA)
Currently dismantled for major reworking. Possible 1920's stove.

Dimensions roughly- Height:-35cm, Width:-50cm, Depth:-30cm . Flue diameter:- tba
Status - In progress. Dismantled totally. New firebox fabricated. Long term project.

Misc.
Status - Awaiting start.



Here be ghosts....